The Laurentians with the kids: that's a big yes! An abundance of lakes, rivers, and forests; mountains as far as the eye can see; picturesque villages teeming with life… our beautiful region offers a simply magnificent playground. Once you arrive, you don't need to worry about getting bored: countless unique experiences await for the whole family.
To help you plan your trip or your day, our team has put together a great selection for you. Here are 4 signature activities in the Laurentians that your kids will love.
1. Discovery activities
Spending time enjoying nature is great for awakening curious little minds. It's even better when they can soak up more by interacting and learning. What a joy for parents to see their children opening to these simple, yet essential things. A family fishing trip on the lake is always appreciated by young and old. You may catch some beautiful local species: bass, muskellunge, and trout (which will be released for diversity issues). Our seasoned guide will reveal his knowledge of aquatic flora and fauna to you, as well as all their secrets for fishing like a pro. You can do this activity on Lake Ouimet or Lake Tremblant.
About thirty kilometres from Tremblant, there is a totally unique place. Dotted with small, clear lakes and streams and surrounded by mountains, the nature centre offers a bison reserve, a pack of sled dogs, and an interpretation centre for local flora and fauna. You can experience two survival and immersion activities there with a real trapper, accessible in summer and winter for ages 4 and up. Wonder guaranteed!
Parc Éco-Laurentides is a real oasis in the heart of the Laurentian forest, located in St-Faustin-Lac-Carré (this is the area where our famous treehouses were built!). While the screenings and guided interpretation activities aren't accessible in 2020 for the reasons we all know, we can still recommend a walk through the park's extensive trail network complemented with interpretation panels. One of the most beautiful paths, a footbridge that crosses the wetlands, is even accessible to strollers!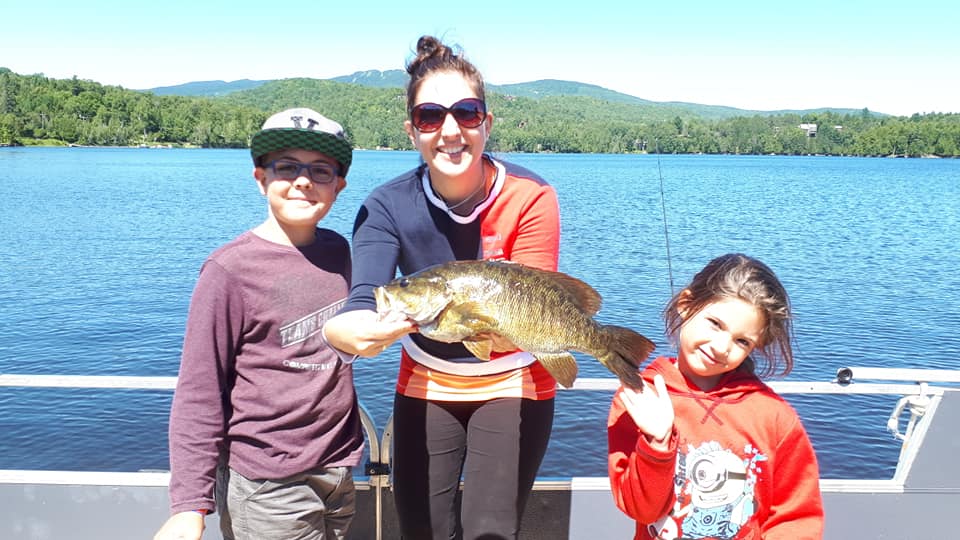 2. Hiking
The benefits of hiking for the body and mind are absolutely indisputable. Why, then, wouldn't we want to share them with our kids? What a joy to treat ourselves to this beautiful break altogether and to enjoy the natural treasures available to us during a walk in the forest or in the mountains. Of course, at the start, it's best not to be too ambitious regarding the number of kilometres to tackle. Instead, look for short trails that offer a rich diversity (views, lakes, rivers, interpretation) to keep little minds stimulated.
Mont-Tremblant National Park offers easy and intermediate trails, including some that are accessible to strollers with large wheels, such as the Lac-aux-Atocas and Chutes-Croches (La Diable) trail and the Chute-aux-Rats (La Pimbina) trail.
Domaine St-Bernard offers no fewer than 30 km of trails accessible to all ages… but that's not all! Once you've finished your hike, enjoy a beach, a playground, and even a magnificent garden featuring birds and medicinal plants. Here, you can feed adorable blue jays, chickadees, and nuthatches that are used to pecking at visitors' hands. An unforgettable experience!
Apart from that, the Laurentians are full of nature parks that will make families of walkers happy: Val David-Val Morin regional parks, Parc de la rivière Doncaster, and many others!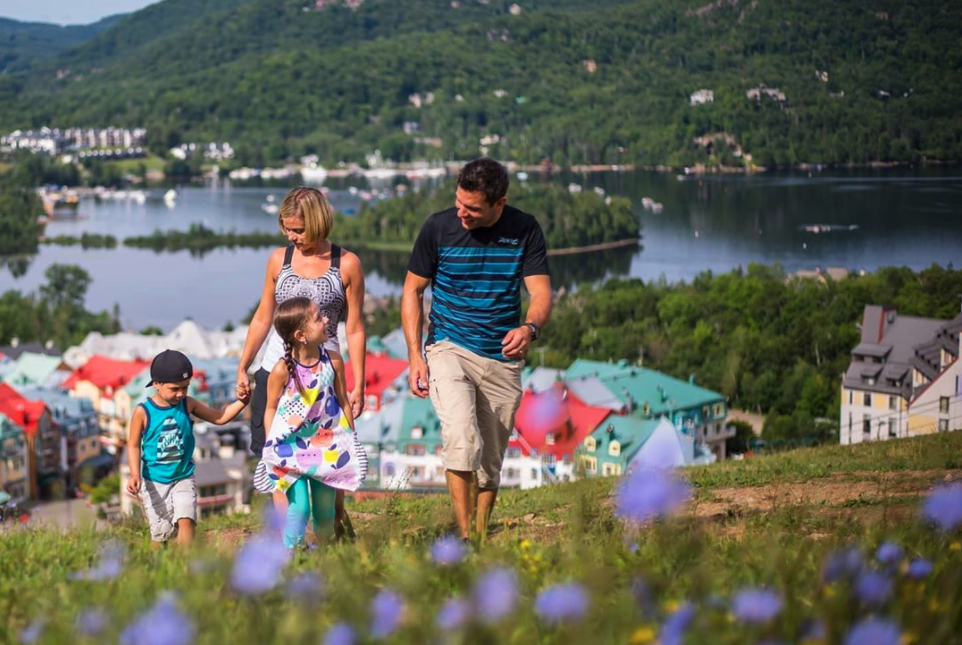 3. Thrills at a height

We know heights aren't for everyone, but for those who love them, we have so many thrilling activities to choose from. You can enjoy these adventures as a family in total safety, perfectly equipped and supervised. Experienced guides welcome you in natural environments of breathtaking beauty!
Located on the site of the nature centre, 18 river ziplines criss-cross a magnificent Laurentian forest and fly over a torrent, so prepare yourself for a complete immersion in nature. Here, too, your safety is ensured with a continuous lifeline system along the entire route. Everyone aged 7 and up will have a ton of fun on these ziplines in the treetops.
The Via Ferrata is—in a sense—a mixture of hiking and climbing. This fantastic activity lets you move along rock walls, well-secured by a system of steel cables, harnesses, and carabiners. Between earth and sky, the Via Ferrata lets you discover the landscapes of the Laurentians from a new angle. Located 35 minutes from Tremblant, the Via Ferrata Mont-Catherine offers you several packages, but—above all—impressive cliffs as high as a 20-storey building! Just imagine the view from way up there…
There are many Via Ferrata activities in Quebec. In the Laurentians, you will also find them at Mont-Tremblant National Park.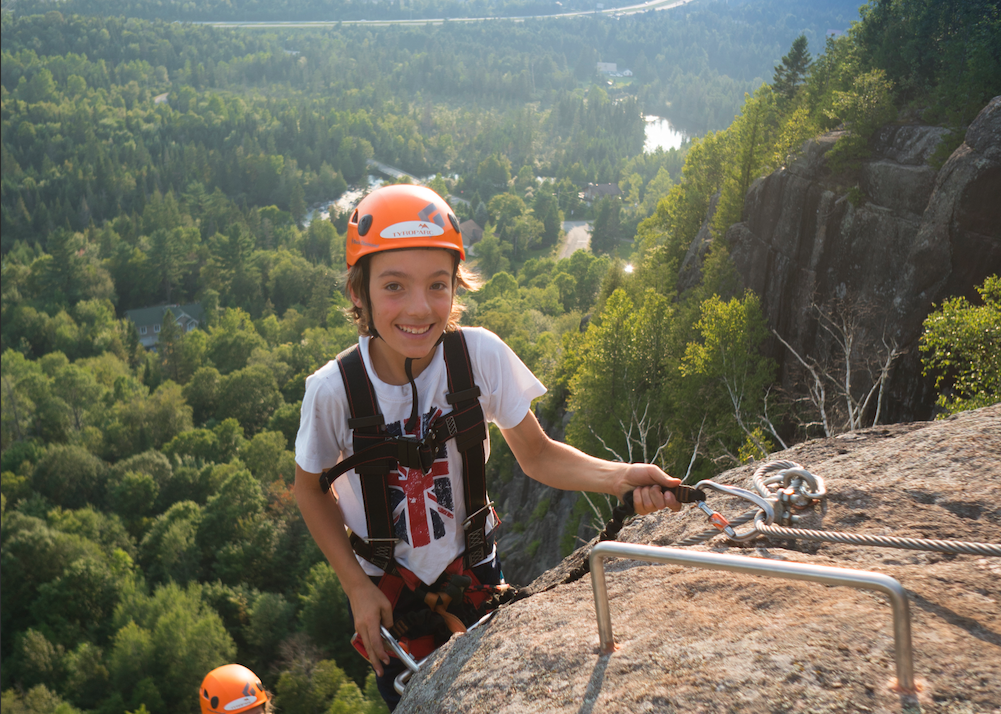 4. For cold or rainy days
Don't let bad weather ruin your family trip to the Laurentians. Rain on the horizon? Head for Tremblant and choose from several options for fun, interactive, indoor group activities.
An exciting experience awaits young and old at the Tremblant escape games! Choose from 7 scenarios, enter, and put your brains and your sense of strategy to work to regain your freedom!
Car racing, a roller coaster, and a whole medley of games are available at the virtual reality centre for an exciting immersive experience. You can also rent virtual reality headsets if you're staying in Tremblant.
Like a life-sized video game, laser tag will immerse you in the heart of an incredibly exhilarating experience. Defend your territory, attack the enemy, patience, skill, strategy… do everything you can to win the game while having as much fun as possible!
Studio Créatif will be an opportunity to satisfy budding artists! Paint your memories on ceramic media (figurines, boxes, bowls, etc.). An activity that lets kids give free rein to their creativity!
[/row]