The most popular winter destination in the province, Tremblant offers an unparalleled playground to all those who love the outdoors and wide-open spaces. Mountains as far as the eye can see, one of the best ski resorts in Canada, numerous lakes, a national park, hundreds of kilometres of trails… the options are endless for anyone who wants to escape and unwind in our magnificent part of the country.
Skiing is certainly a preferred activity here, but in truth, so many other options are available to you, and this is what makes Tremblant so unmissable this winter.
Are you planning a stay in Mont-Tremblant? Are you wondering what activities are worth putting on your schedule? Our team has done the thinking for you. Here are the 10 most popular activities offered by the Tremblant Activity Centre.
1. Dogsledding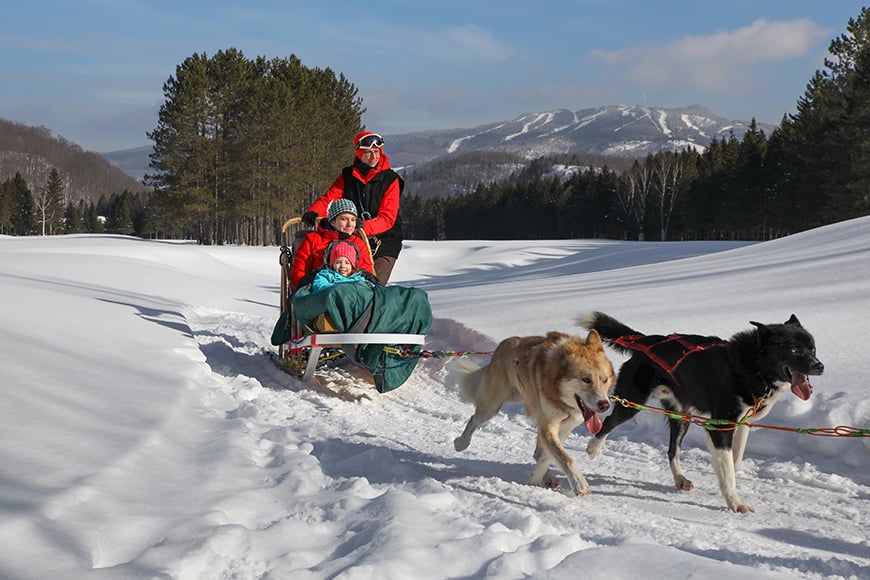 If you had to choose just one activity, it would definitely be this one. Imagine yourself dashing through the woods pulled by a pack of adorable huskies, a fine snow falling, the marvellous spectacle of the pristine white landscapes… Admit it! You're already dreaming about it!
The Tremblant Activity Centre offers several dog sledding packages accessible to everyone, where you can—depending on the chosen activity—drive your own team of dogs, learn more about the job of the musher and the dogs, spend time with them, and have a bite to eat. If you're lucky, you might even have the opportunity to cuddle the puppies during a visit to the kennel!
The dog sledding activity will undoubtedly amaze both young and old, as it already has for many years now.
Good to know: Rest assured, the dogs are treated like kings! Each individual in the pack is part of the family and receives the best possible treatment, in accordance with applicable federal and provincial laws.
2. Snowmobiling
Another quintessential Canadian activity, snowmobiling is an amazing cocktail of thrills, guaranteed! The Mont-Tremblant region offers hundreds of kilometres of slopes renowned across Quebec, and breathtakingly beautiful panoramas unfold before your eyes throughout the adventure.
Whether you're an experienced driver or a beginner, we have activities for all levels and several different packages (full-day, half-day, evening, etc.).
In our opinion, it's the best way to enjoy our marvellous landscapes for lovers of motor sports who aren't faint of heart!
3. Dune buggy 4 x 4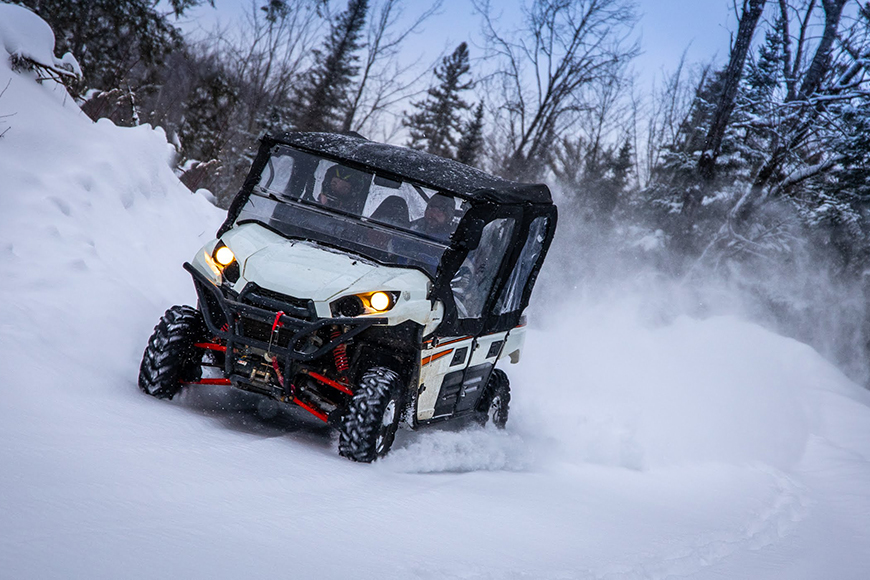 Because not everyone is comfortable getting on a snowmobile, and because family outings are also fun, we have the dune buggy! This enclosed 4×4 off-road vehicle is equipped with 3-point seat belts as well as a metal cage for an unparalleled level of safety. It's also heated for your comfort!
Many panoramic views are available to you all along the route through snow-covered forests, so you can sit back and enjoy the ride, but not only. Test your driving reflexes as the vehicle rushes over bumps, slopes, and other technical elements of the route that will cause serious adrenaline rushes in total safety.
Good to know: Each buggy can accommodate four passengers, two of whom can share the role of driver. The activity is accessible to children aged 5 and up, and no experience is required.
4. Sleigh rides
Wonder for the little ones and a return to childhood for the older ones: this is what awaits you at the sleigh ride activity at Tremblant! During your tour in a small private sleigh, you can enjoy a pleasant ride and let your mind wander in the company of your loved ones. The second, more complete option is a real show in great company. Our host—a man of the country, storyteller, and musician—will offer you unforgettable moments with folk songs, stories, and local legends. Whichever option you choose, plenty of fun awaits!
5. Tubing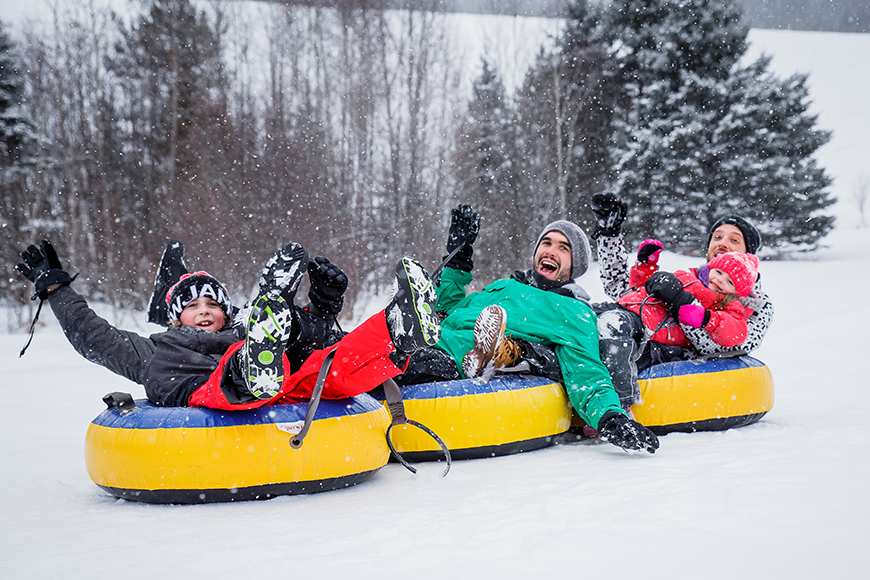 Enjoy our 8 tubing lanes—from beginner to expert level—to let loose as a family or among friends on the slopes of a well-groomed hill in downtown Mont-Tremblant. The tow- lift back up to the top lets you save your energy for the ride. A very popular après-ski activity!
6. Indoor Games
Because sometimes the weather doesn't cooperate, we have a wide range of really fun indoor games that are suitable for all ages: escape games, laser tag, virtual reality, etc. At any time of day or night, enjoy fun experiences in extraordinary worlds. Escape your everyday routine and have some crazy fun, all while staying warm inside.
Good to know: These activities are all located on the same site as the resort, in the heart of the village of Tremblant.
7. Snowshoeing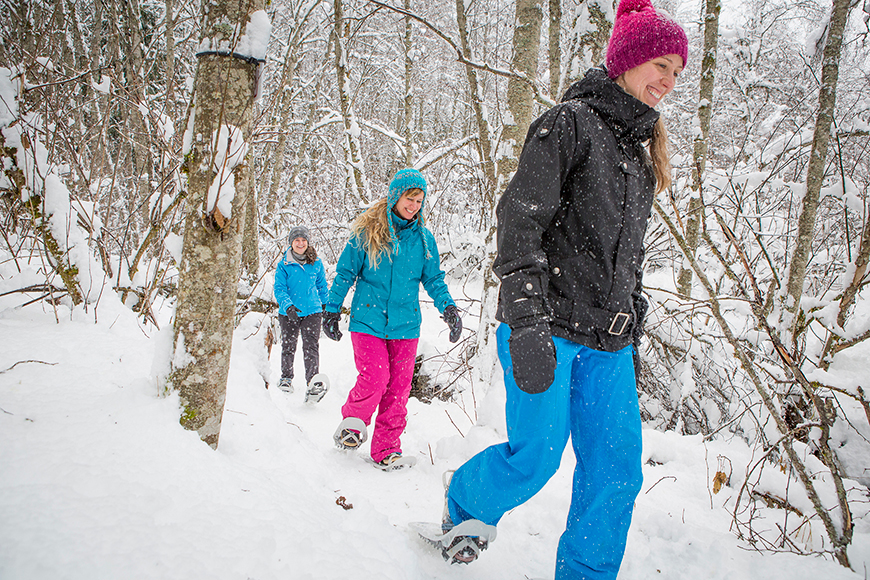 Fans of long, beautiful walks in the snow will have plenty of fun exploring our wonderful territory on snowshoes! Set off on an adventure on your own with rented snowshoes or treat yourself to the exciting experience of a guided tour with interpretation of the natural surroundings and local folklore.
Good to know: Our customers' ultimate favourite activity is feeding the chickadees on the charming trails of Domaine St-Bernard. These birds come and peck directly in your hands. Simply wonderful!
8. Ice Fishing
A magnificent activity that's ideal for small groups! Everything about the ice fishing experience is designed for interpretation and fun.
An experienced guide is there to teach you the technique and introduce you to the local fauna. Yellow perch, bass, and pike, which are your prey, will be released into the water at the end of the activity for conservation reasons.
For a truly unforgettable experience, you can warm up in a heated shelter and even use a submersible camera to observe the fish in their natural habitat at your leisure.
9. Helicopter flights
Even at the summit of the highest mountain, you will never have a view worthy of the one that awaits you way up there on the roof of the Laurentians. Treat yourself to a helicopter flight and embark on the adventure of a lifetime. Have a good flight!
10. Ice climbing
Many sports can be practiced in both the summer and winter at Tremblant, and this is the case with climbing! Here is a great challenge to tackle for those aged 8 and up: climbing one of the most impressive ice falls in the Tremblant region! During the ice climbing activity, an instructor will introduce you to the required techniques, so no experience is necessary to enjoy this awesome winter activity. In the same vein, extraordinary via ferrata and zipline activities are also available in the cold season.
Good to know: The ice climbing activity is one of the most popular activities with teens!
We are happy to help you plan!
The Tremblant Activity Centre is very proud to know the destination and its activities better than anyone. Every winter, we guide thousands of vacationers who are looking to complement their stay with vibrant, unforgettable experiences. Whether it's a simple request for information or booking a custom tour, we take care of your request and offer you options tailored to your needs.
For more information about the activities available in the Tremblant region, don't hesitate to contact us. Our team will be pleased to answer your questions and support you in planning your winter adventure!
IMPORTANT
Since school holiday periods are busier than normal and COVID-19 measures require activity providers to limit their capacity, we strongly recommend booking all your activities in advance during the 2020-2021 winter season.
Rest assured that the government directives are strictly followed by The Activity Centre as well as all the activity providers. Your safety and well-being are always at the heart of our concerns.